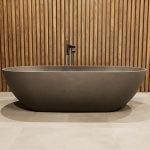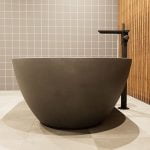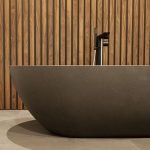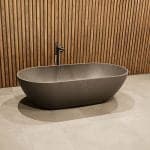 Concrete Bath Tub
Concrete Bath Tub  – Please contact us to enquire.
Dimensions : 1800mm x 880mm
Technical Drawing available here :
Enquire
The Timeless Elegance of a Concrete Bath: A Luxurious Statement Piece for Your Bathroom
In the realm of bathroom design, one material has emerged as a symbol of sophistication and style: concrete. With its sleek lines, durable nature, and versatile customization options, a concrete bath brings a timeless elegance to any bathroom space
The understated beauty of a concrete bath is unparalleled. Its smooth surfaces, clean lines, and minimalist appeal exude a sense of modern elegance
Concrete baths offer a sensory experience that enhances the pleasure of bathing. The natural thermal properties of concrete retain heat, enveloping you in warmth and indulgence. Its smooth surface provides a pleasing tactile sensation, adding to the overall luxuriousness of your bathing ritual. With carefully designed ergonomics, a concrete bath offers optimal comfort and relaxation, inviting you to unwind and rejuvenate.