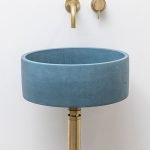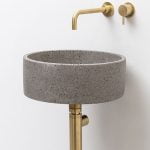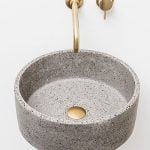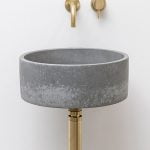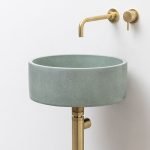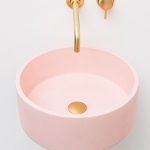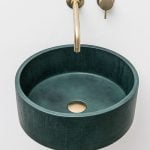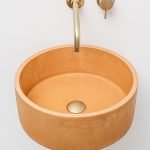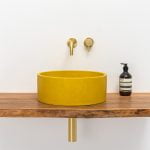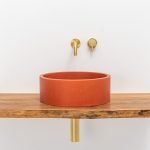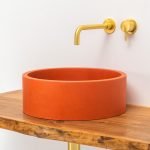 Owel
Dimensions:  400mm in diameter and 145mm high  with a wall thickness of 20mm.
Colour: Please browse are extensive concrete and terrazzo shades here
Weight/Capacity: Owel weighs approximately 14kgs and holds approximately 17litres
Taps: Ideal spout projection is approximately 200mm. Owel is compatible with all standard unslotted wastes. This basin can be wall or surface mounted.
Tap, wastes and trap not included.
Brackets: A bracket for this basin can be selected from our Shop products or can purchased here
Estimated Delivery Time: 6 – 8 weeks
Images are for guidance only – due to the hand crafted nature of the product, exact colour and finish may vary.
Colour reference tiles  are a GUIDE ONLY and may not be 100% exact due to materiality and the nature of this hand crafted product.
Blue Pigment : Colours in blue and that have a blue pigment in them tend to be variable in tone, this is due to a global blue pigment shortage. It is advisable to order a sample before purchase.
Prices quoted are  inclusive of VAT .  Delivery of this product within Ireland is €65 + VAT . Please contact us for a delivery price to the UK.  More information on Delivery and Returns can be found here.
Enquire
Elegant and Modern
The Owel model presents itself as an embodiment of elegance and modernity, offering a seamless blend of flowing lines and minimalist design that is perfect for any contemporary bathroom or Powder Room. This circular basin is a testament to the beauty that can be achieved through simplicity, making it an ideal choice for enhancing the overall aesthetic of your bathroom space.
The seamless curves create a visual harmony that draws attention and adds a touch of refinement to the room. This design choice ensures that the basin stands out as a statement piece while maintaining a sense of understated elegance.
The circular shape of the basin introduces a soft and organic element into the space. This shape not only enhances the visual appeal but also contributes to the functionality of the basin. The absence of sharp corners and edges not only makes it easier to clean but also ensures a safer and more user-friendly experience.
Furthermore, the adaptability of the Owel model makes it suitable for a wide range of bathroom styles. Its versatile nature means that it can seamlessly integrate into various colour palettes, materials, and design elements, allowing you to customize your bathroom space to your unique preferences.
TECHNICAL INFORMATION
TECHNICAL SPECIFICATION – OWEL BASIN
TECHNICAL SPECIFICATION – BRACKETS