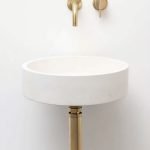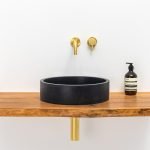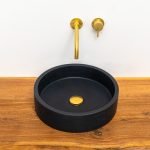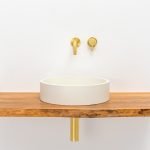 Clea
Dimensions:  400mm in diameter  and a height of 105mm with a wall thickness of 20mm.
Colour: Please browse are extensive concrete and terrazzo shades here
Weight/Capacity: Clea weighs approximately 10kgs and holds 8 litres approximately.
Taps: Ideal spout projection is approximately 200mm.  Clea is compatible with all standard unslotted wastes.  Tap, wastes and trap not included.
Brackets: A bracket for this basin can be selected from our Shop products or can purchased here.
Estimated Delivery Time: 6 – 8 weeks
Images are for guidance only – due to the hand crafted nature of the product, exact colour and finish may vary.
Colour reference tiles  are a GUIDE ONLY and may not be exact due to materiality and the nature of this hand crafted product.
Blue Pigment : Colours of blue and those that have blue pigment tend to be variable in tone. This is due to a global shortage of blue pigment. It is advisable to request a sample before purchasing.
Prices quoted are inclusive of VAT . Delivery of this product within Ireland is €65 + VAT . For deliveries to the UK please contact us.  More information on Delivery and Returns can be found here.
Enquire
Modern & Timeless
A Polished Concrete Sink adds a seamless and streamlined finish to your bathroom. This beautifully curved low round basin will bring a contemporary aesthetic to your bathroom space. Whether wall mounted for counter mounted this basin will elevate your interior space.
Polished concrete is an economical, sustainable and a virtually maintenance-free choice providing you with a unique and modern option for your bathroom.
TECHNICAL INFORMATION
TECHNICAL SPECIFICATION – BASIN
TECHNICAL SPECIFICATION – BRACKETS