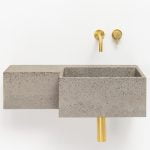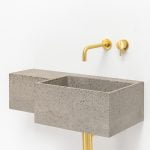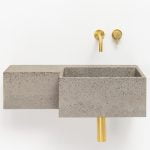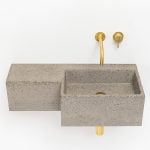 Greg
From €1,064.00 – €1,600.00
Dimensions:  740mm x 360mm x 200mm  with a wall thickness of 20mm.
Weight/Capacity: Greg weighs approximately up to 25kgs and holds approximately 10 litres.
Taps: Typical spout projection from the wall is 220mm. Greg is compatible with all standard unslotted wastes. Tap, wastes and trap not included.
Brackets: A bracket is included for this concrete sink.
Estimated Delivery Time: 6 – 8 weeks
Images are for guidance only – due to the hand crafted nature of the product, exact colour and finish may vary.
Colour reference tiles  are a GUIDE ONLY and may not be  exact due to materiality and the nature of this hand crafted product.
Blue Pigment : Colours in blue and that have a blue pigment in them tend to be variable in tone, this is due to a global blue pigment shortage. It is advisable to order a sample before purchase.
Prices quoted are not inclusive of VAT + Delivery Charges, which will be added at checkout. Delivery of this product within Ireland is €65 + VAT . Please contact us for a delivery price to the UK and EUROPE. More information on Delivery and Returns can be found here.
Robust and space conscious
Greg is a modern contemporary vanity and basin. It is a wall hung basin. Greg was made as a custom basin but we loved it so much we have added it as part of our range. This is a very practical basin with generous surface space and is available in a right and left hand option. This is a robust concrete basin providing a contemporary aesthetic and will add impact to your Powder Room or Bathroom interiors.  This concrete basin is made from start to finish here in Ireland and can be used residentially or commercially.
Our concrete is extremely durable and easy to maintain. You can achieve the bathroom of your dreams by choosing from our various shades. We also produce custom shades so please contact us if you have something else in mind.
TECHNICAL INFORMATION
TECHNICAL SPECIFICATION – GREG RIGHT HANDED
TECHNICAL SPECIFICATION – GREG LEFT HANDED
TECHNICAL SPECIFICATION – BRACKETS RIGHT HANDED
TECHNICAL SPECIFICATION – BRACKETS LEFT HANDED